I've been a long-time fan of all things cute and Japanese, but I have never been able to afford to travel to this magical land. One thing in particular I have always wanted to try was Purikura, a Japanese photobooth. Of course it pulls on my camera/photo editing heart strings, but they're not like the ones in America, which are currently dying a slow death. You can actually edit the photos and they're everywhere in Japan. If you're like me and have also been wanting to try Purikura, you don't have too look far.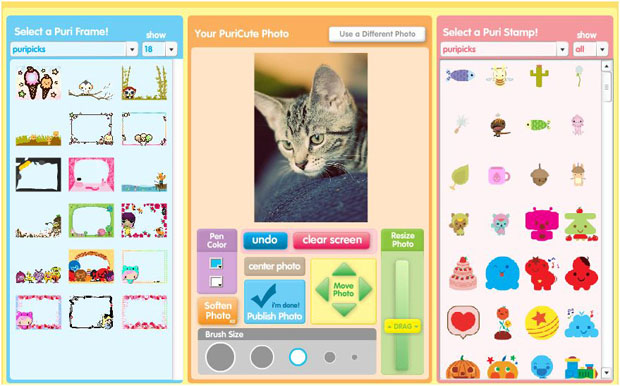 This great service called PuriCute allows you to make your own purikura online! To upload a photo is very simple, you just click the "Make a PuriCute Pic" and from there it will ask you to browse your computer for photos. Then you can add frames from the left drop-down menu and stamps on the right. Probably the best part of all is that you can order sticker prints of your creations, which I would personally use for scrapbooking and journaling for an extra fun touch. You can also add friends and enter in contests, which I have already entered in two to win free sticker sheets.
You can embed the photo into your website, save it as a JPG, or upload it straight to Facebook or other social networking sites from PuriCute. That's my kitten Willow that I rescued last year. She'll be celebrating her first birthday in June!
Check out this great service if you want to add a little fun to your photos!